*Note: the title of this post is a play on
How to Train Your Dragon
. If you have come to this article by searching for drag queen training or any kind of kinky stuff, I'm sorry to have disappointed you.*
My boyfriend and I went to a drag party last night. I don't really make the best guy, although I did my best to swagger and regularly adjust my "balls," but I have to admit, my boyfriend is a hot babe. Seriously, the man looks better in tights and heels than I do. Bitch.
In all seriousness, it took him so long to get ready. I mean, yes, I get that tucking takes some time and effort, but it's amazing what the loss of a couple of pockets does to a man. Of course, for some reason putting on pants meant that every time I put something down, I forgot where I set it.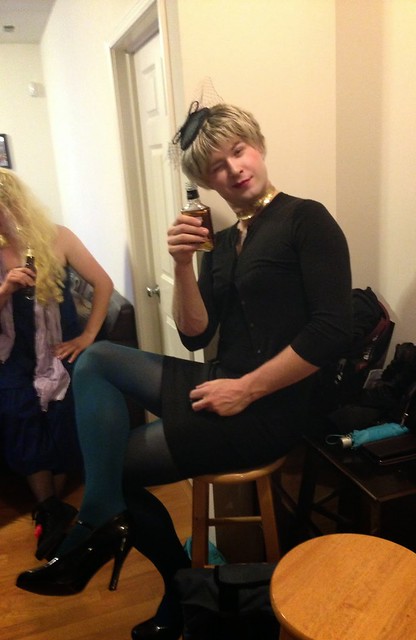 Brian already owned the dress, heels, and wig, but I loaned him the tights, cardigan, and cocktail hat, and I did his makeup. I also shaved his shoulders, although with the cardigan you couldn't tell.
The makeup was the fun part. First, he gave himself a nice, close shave, and I put on some heavy moisturizer to soften his dry skin. I evened out his skin tone using stick foundation, and blended concealer under his eyes, around his nose, and around his jaw line to help cover his residual stubble.
Using a light powder bronzer, I contoured his cheekbones and around his jaw line a bit. I used a white, shimmery eyeshadow as a highlighter along the top of his cheekbones and continuing into a C shape up his temples and to the peak of his brow. I also highlighted under his brows, to lift them, the center of his forehead, down the center of his nose, and at the cupid's bow of his lips. I'm not very good at contouring, and if you've seen
RuPaul's Drag Race
, you know you need a heavy hand with it, which I didn't use. Still, I think it helped to soften his face a little bit.
For the eyes, I covered his lids from the lash line to the crease with shimmery, golden brown eyeshadow. I defined his crease with a dark brown shadow, then winged it out. I lined his upper lid with the same dark brown color, given him an open cut crease/cat eye look similar to
this one on xoVain.com.
He got two coats of mascara (after the first one, I warned him not to blink hard; he stared at me, aghast, and asked "all night?" "I... what? No, you can blink however you want after it dries." "But I need to blink now!" he said, holding his eye half open. "You can blink normally, just don't squeeze your eyes shut tight or your mascara will get all smeared under your eye." This raises a question - does my boyfriend think I don't blink when I'm wearing makeup?), and I defined his brows a little bit with my MAC brow gel.
A little rosy blush and some pinky red lipstick and he was good to go. Of course, the first thing he said when he looked in the mirror was that he looked like he thought he was going to look at his funeral. I don't really know what to think about that.
But seriously, I thought he looked amazing in his heels, and the way a little highlighter in his cupid's bow made his lips look reminded me of what a great trick that is.
I did not realize how invested he was in his "best drag" status until this gorgeous creature showed up. I made an offhand comment that I was sorry, but she clearly won, which really hurt his feelings. I felt really bad that I had made him feel like I wasn't proud of him, because I would bang him like a cheap gong, especially with those heels on.